My Make Me a Baker Diary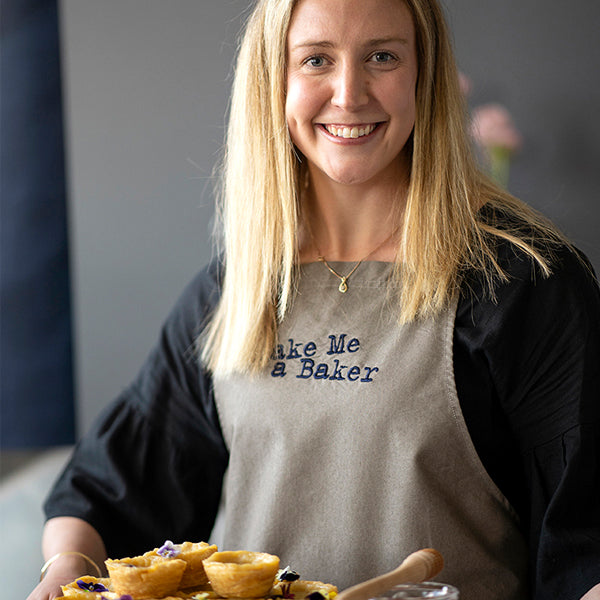 Baking my way: Reflections and final thoughts on my Make Me a Baker journey
08 Oct 2018 - Anneka Manning
My Make Me a Baker Learning Journal
by Hannah Scott
Just over 6 months ago, I joined fellow Make Me a Baker 7 (MMAB7) students to set foot in the Bake Club Kitchen for the first time. I was a barrel of nerves, but also excited about what the next 6 months would hold. 
So many things I know now, that I did not know then. There's being able to bake, and then there's knowing how to bake, and Make Me a Baker has shown me that. 
Before Make Me a Baker there were some things I would have never attempted. Puff pastry was one of them, and now puff pastry is something I make often when I feel like a few therapeutic hours in the kitchen.
The most valuable thing I learnt in the course was the science behind baking. Knowing how ingredients work together has made it so much easier to follow recipes and to develop my own. What used to be trial and error is now more deliberate making and experimenting in the kitchen, having lots of fun. 
Now let's talk about graduation.
When I first started Make Me a Baker, graduation seemed a long way away, but it was surprising how quickly it snuck up. Graduation was our opportunity to showcase our skills to family and friends and bake something that before Make Me a Baker we might not have attempted. 
Because of my newfound passion (or perhaps obsession) with puff pastry I knew that my bake would have to feature this and it's the skill I'm most proud of learning. 
I made Chia and Cardamom Spiced Custard Tarts for graduation as I also wanted to make something that I love to eat, but until now, hadn't attempted to make myself – Portuguese custard tarts came to mind. It's one of those pastries that I just can't go past and I love their rustic beauty. 
My chia and cardamom spiced custard tarts sitting pretty on graduation day.(Recipe coming soon).  (Photo Alan Benson)
I was pretty happy with how my tarts turned out, but even more impressed with the other creations my MMAB7 baking friends made.
A spectacular 'Golden Croquembouche' made by Cindy Fyfe. 
Beautiful Hazelnut, Honey and Lavender Tarts made by Rachel Hunt. 
What an impressive spread and a great bunch of people. (Photo Alan Benson)
To see more of our graduation celebration, view the photo gallery here.
For any future Make Me a Baker friends out there, I thought it might be useful to share my top tips for preparing for graduation. Equally, these same tips could be applied to prep for your next dinner party, or Christmas lunch, (which eekk is only 11 weeks away)! 
Hannah's top tips when baking to impress:
Practice, practice, practice! Don't attempt to make a dish that you've never made before when you're baking for a crowd. Failure to prepare is preparing to fail as the old saying goes. 
Make something that you enjoy making as it will make the whole experience more enjoyable. This means that when your guests arrive you'll be relaxed with a drink in hand. MMAB7 totally nailed this (see pic below). 
Stick to your skill level. Yes you want to show off your skills, but simple done well beats complex that doesn't quite hit the mark. 
Presentation goes along way. Think about how you're going to plate your dish in advance and how people are practically going to eat it. 
My last tip is probably the most important of all, and that's to prepare a timeline for your bake. Think about what you can you prep the day or night before, and if you're making multiple dishes, what order you need to make them in. Each time we baked in the Bake Club kitchen Anneka prepared us a timing schedule down to the minute. This meant we would sometimes have four bakes on the go at once, all at different stages! 
Celebrating before our guests arrive.
I couldn't sign off my last Make Me a Baker journal without giving a few thanks.
Thank you to my MMAB7 friends for making the time spent in the BakeClub kitchen so enjoyable and for sharing this journey with me. Thank you to Vanessa and Neela for the support you provided us in the kitchen, and of course for doing all our washing up! Thank you to SBS for this amazing opportunity. When I found out I was the lucky winner of the Make Me a Baker SBS Food scholarship, I had no idea it would be such a life changing experience. And a huge thank you to Anneka who not only was incredibly generous with sharing her knowledge but who also provided genuine support and guidance throughout. 
While my Make Me a Baker journey has officially come to an end, I know this is just the beginning of baking my way through life.
Until next time, Happy Baking. X
Hannah Scott (aka @thefoodstoryteller) won a scholarship to BakeClub's Make Me a Baker program thanks to SBS Food. Her rustic approach to baking is partly to thank for winning her the top spot in the competition. We followed her over the last 6-months of her journey, stay tuned to Instagram and the blog as she graduates from Make Me a Baker. In the meantime, click here to get to know a little more about her. 
To find out more about how you can be part of a future Make Me a Baker program, click here.