My Make Me a Baker Diary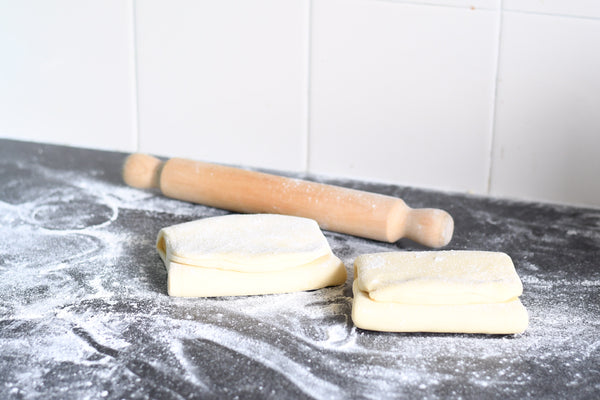 Practice makes perfect pastry : Reflections from Modules 7 & 8
20 Aug 2018 - Anneka Manning
My Make Me a Baker Learning Journal
by Hannah Scott
This month in Make Me a Baker we covered everything from whisking techniques (including a recipe for a cheesy soufflé that's sure to impress at my next dinner party), to how to make the most divine buttery puff pastry from scratch. Never again will I buy store-bought puff!
These cheesy soufflés were made using the whisking technique and is sure to be the star at your next dinner party.
I have to say that this session was my favourite so far in the BakeClub kitchen, not just because soufflés were on the menu for lunch (although that was great too), but because many of the recipes we learnt how to make I had never made before. There's no better feeling that conquering a new recipe and nailing it!
In case you're mouth isn't watering enough at the thought of cheese soufflés for lunch, Lemon Chiffon Cake, Chocolate and Mint Eclairs and Striped Meringue Kisses (which I'll definitely be making for this year's Christmas gifts), were just a few of the things we made.
These Striped Meringue Kisses would make the perfect edible Christmas gifts.
Before I started Make Me a Baker my baking repertoire didn't venture very far outside of my comfort zone, so it felt very satisfying to tick off a few items on my baking bucket list. But nothing was more satisfying that ticking puff pastry off that list.  
Until as recent as one month ago, I'd never made puff pastry from scratch. Just a few weeks on, and I've already made a handful of batches. It turns out that making puff pastry is my favourite type of baking there is. I'm not going to go as far as saying it's easy – it requires a lot of precision and care, but it certainly isn't as difficult as you may think and I promise that it will be one of the most satisfying things you'll ever bake (and taste). Take it from me, the satisfaction of making your own puff pastry also comes with plenty of kudos from your family and friends, particularly when you turn your pastry into delicious treats like these mouth-watering sausage rolls (yum).  
Recipe for these Pork, Apple and Fennel Sausage Rolls can be found at
Local is Lovely.
If puff pastry is on your baking bucket list too, here's are a few tips that I picked up in the BakeClub kitchen which I hope will help you on your way to making the perfect batch of puff.
Top tips for perfect puff pastry
Make sure that you incorporate the butter at the same temperature and pliable consistency as your dough. If you don't the butter will seep through the dough. This is known as butter breakthrough and can be very hard to recover from.
Don't be afraid to add a little extra water to get your dough to the perfect consistency from the start. One of my batches wasn't as good as it could be because my dough was a little dry to start with making it very hard to incorporate the butter through the dough.
Practice makes perfect. With each batch I've made (5 in total now), it has gotten a little easier and a step closer to being technically perfect. I can't wait to see where I am in another handful of batches.  
Like any good day in the BakeClub kitchen we also went home with recipes to try in our own kitchen at home. In addition to making several batches of puff pastry, I also practiced the whisking techniques we learnt in class with this Raspberry Swiss Roll. Again, this is something that I hadn't tried to bake before and I'm glad I gave it a go.
It might seem cliché, but with a little more whisking practice I think I will be very close to achieving "what in my wildest dreams I would like to be able to bake and why?" dream. Perfect sponge, here I come!
Until next time. X
This very moreish Raspberry Swiss Roll is a great recipe to practice the whisking techniques we learnt in class.
Hannah Scott (aka @thefoodstoryteller) won a scholarship to BakeClub's Make Me a Baker program thanks to SBS Food. Her rustic approach to baking is partly to thank for winning her the top spot in the competition. Stay tuned to Instagram and the blog to follow her Make Me a Baker journey over the next 6 months! In the meantime, click here to get to know a little more about her. 
To find out more about how you can be part of a future Make Me a Baker program, click here.