BakeClub Blog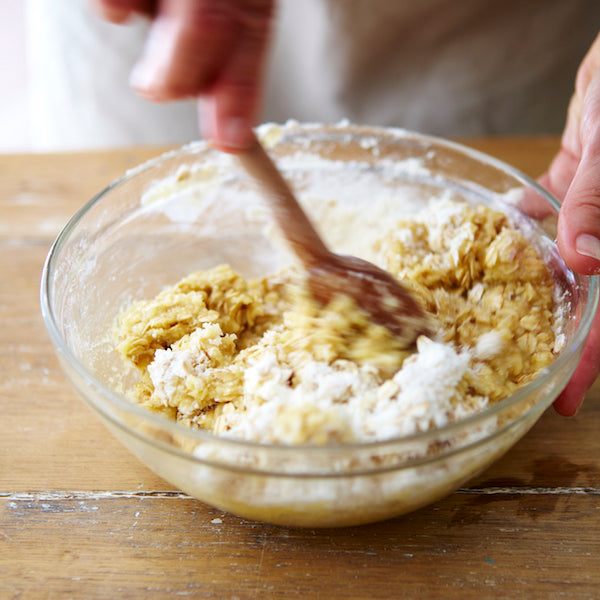 Top 5 Tips for Making Great Anzac Biscuits
24 Apr 2018 - Anneka Manning
There is nothing quite like a good homemade Anzac biscuit. By simply baking and sharing a batch, it's a great way of honouring our troops both past and present. Lest we forget.
Here are my top 5 tips for making great Anzac biscuits!

Choose the brand of oats for the texture you want. Rolled oats can vary enormously between brands and this can affect the final texture of your Anzacs. Some are thin-cut while some are much coarser. If you like your biscuits to have more texture and structure then go for the thick-cut oat brands.
Adjust your oven racks if necessary. With most Anzac biscuit recipes, you will be baking 2 trays of biscuits at the same time so you will need to make sure there is plenty of room not only above and below them but also in between them for the heat to circulate more evenly. To do this, put one rack about one third down from the top of the oven and the other about one third up from the bottom. You will also find swapping the trays around about half way through the baking time will help the biscuits bake and brown more evenly.
Don't let the mixture stand around. Once the wet ingredients have been combined with the dry ingredients, the resulting mixture will start to become thicker (oats are very efficient at absorbing moisture) and, if left for quite a while, even too dry to roll. So, make sure you roll and bake the mixture as soon as possible after mixing to make rolling and flattening of the biscuits easy. If it does get a little dry you can just mix in another tablespoon or two of water to help make it a little more pliable before shaping.
Leave enough room between biscuits for spreading. Anzac biscuits often spread quite a bit and it is easy to end up with one large misshaped biscuit if you don't leave enough room between them. About 7cm between each ball of mixture (for standard size biscuits) is a good amount of space but this will, of course, depend on the size of your Anzac biscuits – the larger the biscuits the more room you will need to leave.
Chewy or crunchy? Depending on how you like the texture of your Anzac biscuits, you can adjust the baking time to suit. 3-5 minutes less baking will generally give you chewy Anzacs while the stated baking time, or a few minutes more, will make them deliciously crisp – perfect for dunking!



Bonus Tip!

Cool the biscuits on the tray. Anzac biscuits are quite soft when you first take them from the oven so just leave them on the trays to cool completely and firm up before removing them.
Photography by Julie Renouf.