BakeClub Blog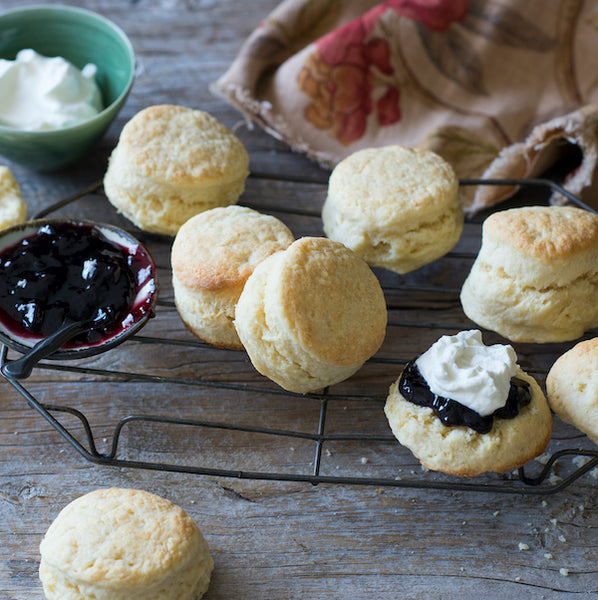 How to Make Great Scones
21 Oct 2020 - Anneka Manning
I have vivid memories of baking batches of scones at shearing time. I would bundle them together in a tea towel to keep them warm and take them up to the shearing shed where they would be devoured at 'smoko'.
These days they are what I turn to when time is short and I want to bake something nostalgic and soul-warming. Scones have a reputation for being tricky to make, but in reality they are actually fast and simple, especially when you keep a few things in mind when making them.
Here are my top tips for making scones.
Top tips for great scones
Small and similar. Cut the butter into small, even pieces; this will help you incorporate it into the flour more quickly and evenly.

Fingertips only. Only use your fingertips, not your whole hands, when rubbing in the butter. The palms are the warmest part of your hands and the butter is more likely to melt if it touches your palms when you are rubbing in the butter, which can result in heavy scones. Also keep the palms of your hands facing upwards and lift the flour high out of the bowl when rubbing in the butter, as this will aerate the mixture and help give it a lighter texture when baked.

Lightly does it. Handle the dough as little as possible to prevent your finished scones from becoming heavy. The less you work your dough the lighter your scones will be.

No twisting please. Don't twist the cutter when cutting out your scones. If you do, your scones are likely to rise unevenly. Just push straight down into the dough and then lift directly upwards for evenly-risen (good-looking) scones! Also, if the cutter starts sticking to the dough dip it in a little extra flour before cutting.

Keep it snug. Scones placed close together on the baking tray will rise higher and more evenly (they are very 'supportive' by nature!) than those spaced out. 1-2cm between each works well.

It's a wrap. For soft-crusted scones wrap them in a tea towel while still warm.
If you would like to give these handy tips a try here's a fabulous scone recipe with lemonade as its secret ingredient. No matter if you are a scone-making novice or old hand I'm sure these will become a favourite!
Happy baking!