BakeTips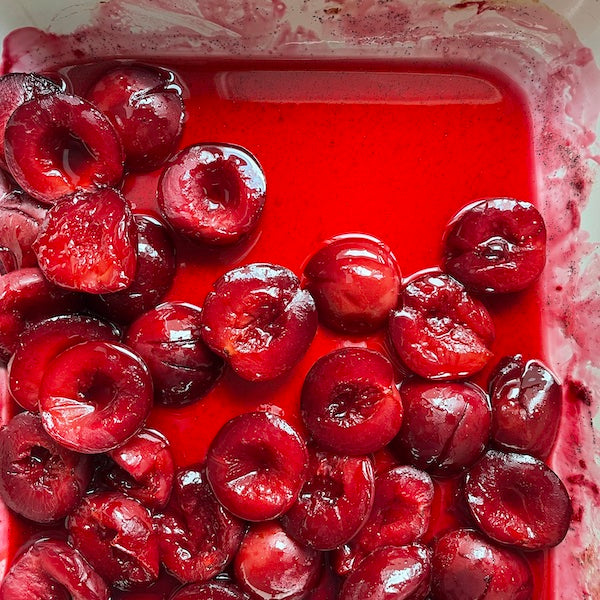 Roasted Plums
07 Nov 2022 - BakeClub Team
One of my favourite things to do with plums at this time of year (late Summer and early Autumn) is to roast them. It's really simple and quick to cook them this way but, best of all, it not only preserves their full flavour but actually enhances it. Along with plums, any sort of stone fruit will work (think peaches, nectarines, cherries, apricots etc.) but I also love rhubarb and strawberries prepared this way.⁠
For every 750g fruit (halved and stones removed) toss with 110g/½ cup caster sugar (raw, demerara and brown are also delicious, adding a slight caramel flavour and making the syrup a little darker) and 2 teaspoons vanilla bean paste. Spread in an ovenproof dish, just large enough to hold the fruit in a single layer, and then cover with foil. Roast in an oven preheated to 200°C/180°C fan-forced for 20-30 minutes, stirring every 10 minutes, or until the fruit is just tender when pierced with a skewer or sharp knife, but is still holding its shape. The time will depend on the size of the fruit pieces and their ripeness. Remember the fruit will continue to soften slightly on cooling so be careful not to overcook or it will collapse and lose its shape.⁠
Once done just serve warm, or cool in the dish and then keep it in an airtight container in the fridge for up to 5 days to be served chilled or at room temperature. It's wonderful served simply over generous scoops of vanilla ice cream (possibly with a side of almond cake), on granola with thick natural yoghurt for breakfast, or even to top waffles or pancakes…oh and any of the leftover syrup is perfect to add to soda water as a cordial or even used to flavour a cheeky cocktail! Enjoy!⁠