BakeTips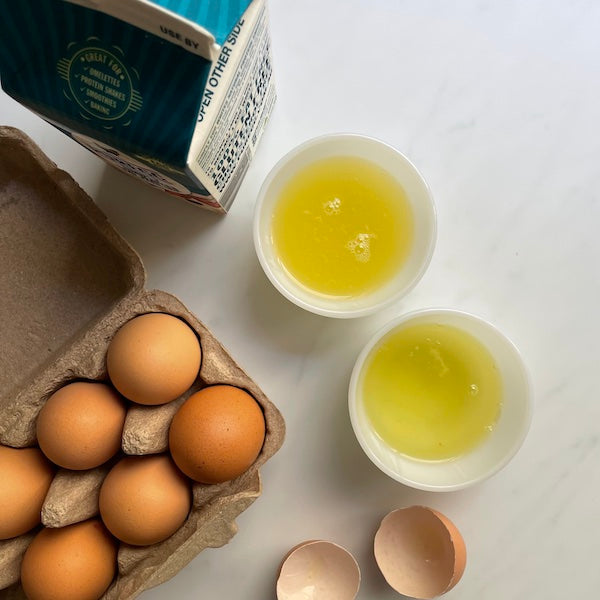 Pasteurised Egg Whites
07 Nov 2022 - BakeClub Team
Did you know you can buy egg whites in a carton? When making anything egg white-based, like meringue or pavolva, macarons, royal icing, or Swiss meringue buttercream it is a fabulous alternative to fresh eggs especially when using them in large quantities.
You'll find them in the refrigerated section of your supermarket (often near the vegetarian and vegan options), and they can be used as a direct replacement for fresh egg whites and completely solves the problem of what to do with all those leftover egg yolks!
Here are a few useful things to note when using pasteurised egg whites:
Use 30g/2oz to replace a fresh egg white from a 60g/2oz egg.
Pasteurised egg whites are thinner in consistency than fresh egg whites (almost water-like when poured from the carton) but don't let this put you off using them – they will still whisk up well.
They take longer to whisk than fresh eggs so you will need to extend the whisking time if it is stated in the recipe – use your patience and you will get the same results.
Any leftovers can be frozen for later use, either in weighed-out portions (which is what I prefer to do so they are pre-measured and ready to go) or as a whole portion left in the carton. Freeze them for up to 3 months, thaw overnight in the fridge and then use as you would fresh egg whites.
Because they are pasteurised, they are a safer option if serving to people with a compromised immune system when using them in recipes that won't be cooked through (like Swiss meringue buttercream or a lemon meringue pie topping) or not cooked at all (like royal icing).